Description
PrimaLuceLab SESTO SENSO 2 robotic focusing motor,
SESTO SENSO 2 – De zeer nauwkeurige, geavanceerde, vibratievrije, robot gestuurde focusmotor voor uw telescoop! Sluit hem aan op de USB-poort van uw EAGLE- of Windows®-computer om de focus elektronisch te regelen. Terwijl u uw focuser desgewenst handmatig kunt verplaatsen. Als je niet wilt focussen met een computer, kun je draadloos verbinding maken vanaf elke smartphone of tablet. Met behulp van het geïntegreerde virtuele handpad via het ingebouwde wifi-netwerk in de SESTO SENSO 2.
Dankzij de Self Centering Clamp-technologie (SCC) kan SESTO SENSO 2 op de meeste focusers worden geïnstalleerd zonder dat er externe beugels nodig zijn. De meegeleverde FOCUS Manager-software en ASCOM-driver maken een gemakkelijke configuratie van de vele geavanceerde functies van SESTO SENSO 2 mogelijk. Dankzij de nauwkeurig bestuurde motor met geïntegreerde elektronica bereikt SESTO SENSO 2 een ongelooflijke precisie van slechts 0,7 micron.
Compact, lichtgewicht en geïntegreerd ontwerp
SESTO SENSO 2 integreert alle besturingselektronica in een enkele compacte behuizing met de poorten aan de zijkant weergegeven. In het bovenste gedeelte vind je de dimbare status-LED's die zelfs kunnen worden uitgeschakeld voor een beter lichtbeheer 's nachts. Onder de LED's vindt u de USB-C-poort om SESTO SENSO 2 aan te sluiten op een EAGLE of andere Windows®-computer met behulp van de meegeleverde kabel. De ARCO-poort om de optionele ARCO-camera rotator van stroom te voorzien en te bedienen met een enkele kabel. De 12V-voeding voedingspoort die de motor en geïntegreerde elektronica van stroom voorziet met behulp van de meegeleverde sigarettenaansteker-voedingskabel (een optionele kabel is ook verkrijgbaar om deze rechtstreeks vanuit de EAGLE te voeden). En de poort voor de optionele temperatuursensor waarmee (met behulp van software van derden) voer autofocus aanpassingsprocedures uit met de omgevingstemperatuur variatie.
USB-C-poort om verbinding te maken met elke standaardcomputer of EAGLE USB-poort: de USB-C-poort is een stevigere, betrouwbaardere verbinding en is ook omkeerbaar, waardoor in het donker gemakkelijker kan worden aangesloten
Geïntegreerde wifi-verbinding met Virtual Hand Pad: als je geen computer wilt gebruiken om de focuser van je telescoop te bedienen, kun je je smartphone of tablet gebruiken die is verbonden met het SESTO SENSO 2 WiFi-netwerk om hem te bedienen met de Virtual Hand Pad.
Self Centering Clamp (SCC) -technologie om verbinding te maken met focusers zonder externe beugels: sluit hem eenvoudig aan op de meeste focusers (indien nodig zijn er optionele adapters beschikbaar voor andere focusers) met de bussen in de doos, verbeterd ten opzichte van de vorige versie.
Dimbare LED-lampen: LED-lampen op de SESTO SENSO 2 body zijn dimbaar en kunnen zelfs volledig worden uitgeschakeld. Op deze manier kunt u de lichtemissie verminderen als u dat wilt tijdens astrofotografie of visueel gebruik.
Compatibel met ARCO camera rotator: SESTO SENSO 2 wordt nu geleverd met ARCO-poort om de ARCO camera rotator eenvoudig aan te sluiten zonder dat extra gegevens of stroomkabels nodig zijn.
Bedien het via USB-C vanaf de EAGLE of vanaf elke Windows®-computer met een standaard USB-poort
Primalucelab SESTO SENSO 2 wordt geleverd met een stevige USB-C-poort om verbinding te maken met de USB-poort op uw EAGLE of een willekeurige Windows®-computer (kabel meegeleverd), en deze te bedienen via de meegeleverde FOCUSER Manager-software of de ASCOM-driver. SESTO SENSO 2 maakt gebruik van een USB-C-poort die voor een grotere betrouwbaarheid zorgt dankzij de omkeerbare stekker: u kunt de USB-kabel in beide richtingen aansluiten, zodat problemen in het donker worden voorkomen.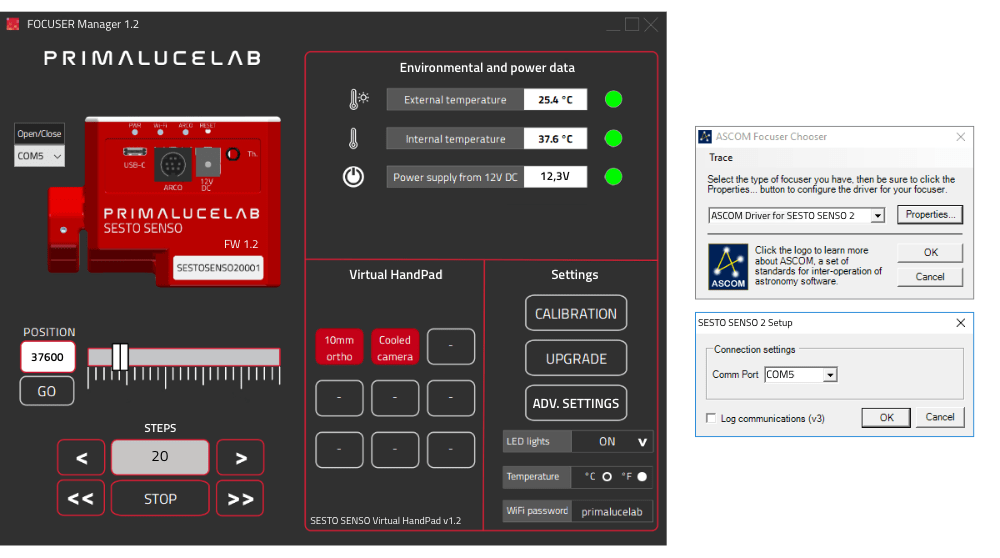 Bediening via wifi, vanaf elke smartphone of tablet via de Virtual HandPad
SESTO SENSO 2 heeft nu een ingebouwde WiFi-afstandsbediening, zodat u hem vanaf elke smartphone of tablet kunt bedienen, zonder dat u een computer nodig heeft! Verbind gewoon uw apparaat met het WiFi-netwerk van de SESTO SENSO 2 en start de app – U kunt de focuser bedienen met behulp van het speciale virtuele handpad. Dankzij handige vooraf ingestelde instellingen kunt u de focuser gemakkelijk opnemen en verplaatsen naar specifieke vooraf bepaalde posities – ook geweldig voor visueel gebruik! WiFi-bediening werkt zelfs als SESTO SENSO 2 ook op een computer is aangesloten, zodat u deze tegelijkertijd vanaf 2 apparaten kunt bedienen.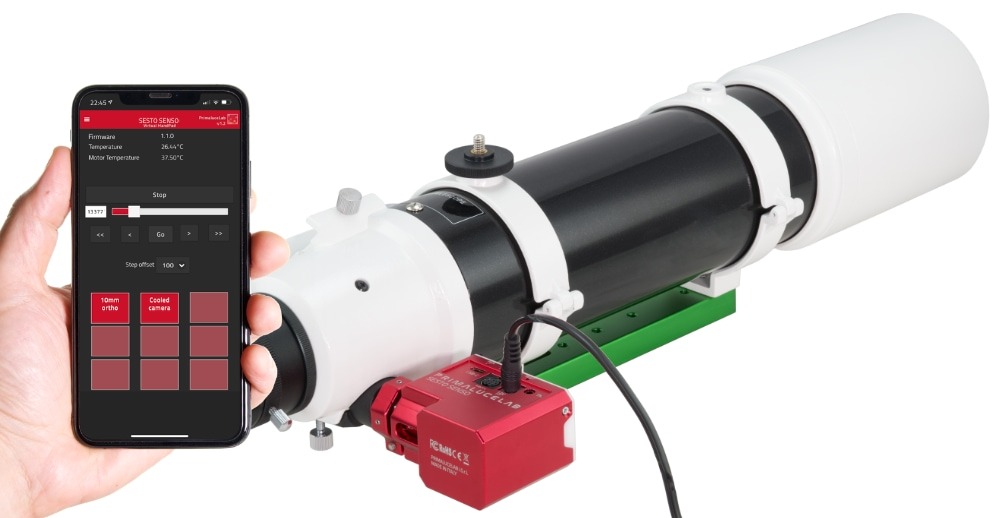 Gemakkelijk aan te sluiten op de meeste focusers dankzij de zelfcentrerende klem (SCC) zonder dat externe beugels nodig zijn
SESTO SENSO 2 geen externe beugels aan hechten aan focusers moeten worden: gewoon verwijderen van de fijne en grove knoppen van uw focuser en je zal een schacht onthullen. SESTO SENSO 2 is ontworpen om te passen op een as met een diameter van 25 mm, gebruikelijk voor de meeste focusers op de markt (optionele adapters beschikbaar voor focusers met asdiameters van 33 of 37 mm – andere diameters zijn momenteel niet compatibel). SESTO SENSO 2 maakt gebruik van een nieuwe as verbindingsbus, verbeterd ten opzichte van de vorige generatie, die is ontworpen om gemakkelijker verschillende focusers aan te kunnen. Een ander voordeel van de SCC-technologie is dat u altijd de handmatige (grove) knoppen van uw focuser kunt gebruiken, zelfs als SESTO SENSO 2 is geïnstalleerd (als u de focuser met de hand beweegt, om de focuser opnieuw te bedienen met SESTO SENSO, zult u u hoeft de focuser alleen handmatig naar de minimumpositie te brengen en op de knop "Positie als 0 instellen" te drukken om deze opnieuw te kalibreren). SESTO SENSO is compatibel met veel telescopen, zoals (maar niet hieraan genoemd):
SkyWatcher EVOSTAR 72 ED, 80 ED, 100 ED en 120 ED
SkyWatcher ESPRIT 80 ED, 100 ED en 120 ED
SkyWatcher Newton 200 mm en 250 mm, f / 4 en f / 5
Takahashi FSQ85
Takahashi FSQ106
Telescopen met Baader SteelTrack® focuser
Telescopen met FeatherTouch 2 "focuser (3 inch en 3,5 inch modellen vereisen optionele 33 mm of 37 mm adapter)
GSO Ritchey-Chretien met 2 inch en 3 inch  focusers
TS-Optics TSED80F7 (met 33 mm optionele adapter)
TS-Optics TSApo60f6RED (met 33 mm optionele adapter)
TS-Optics TSAPO72F6 (met 33 mm optionele adapter)
TS-Optics TLAPO804 (met 33 mm optionele adapter)
TS-Optics TS71SDQ
TS-Optics TS86SDQ
William Optics GT 81 III (met 33 mm optionele adapter) Ganymedes zelf getest
William Optics ZS 126 (met 33 mm optionele adapter) Ganymedes zelf getest
Levering van de PrimaLuceLab SESTO SENSO 2 robotic focusing motor omvat:
SESTO SENSO 2
12v DC sigaretten stekker voedingskabel
USB-C naar standaard USB-kabel
Inbussleutels voor montage
5 gekleurde bussen voor verschillende soorten focusseer inrichtingen
Snelle installatiegids