Description
Wireless wifi controller to control your mount and your ZWO cameras
The ZWO ASIAIR Mini wifi wireless controller is a smart device that wirelessly controls your telescope rig. And makes astrophotography easier than ever. The ASIAIR Mini acts as the brain of your telescope setup. By automatically pointing your GoTo equatorial mount, powering your camera and equipment, and controlling compatible ZWO accessories such as the EAF, filter wheel, tracking camera and more.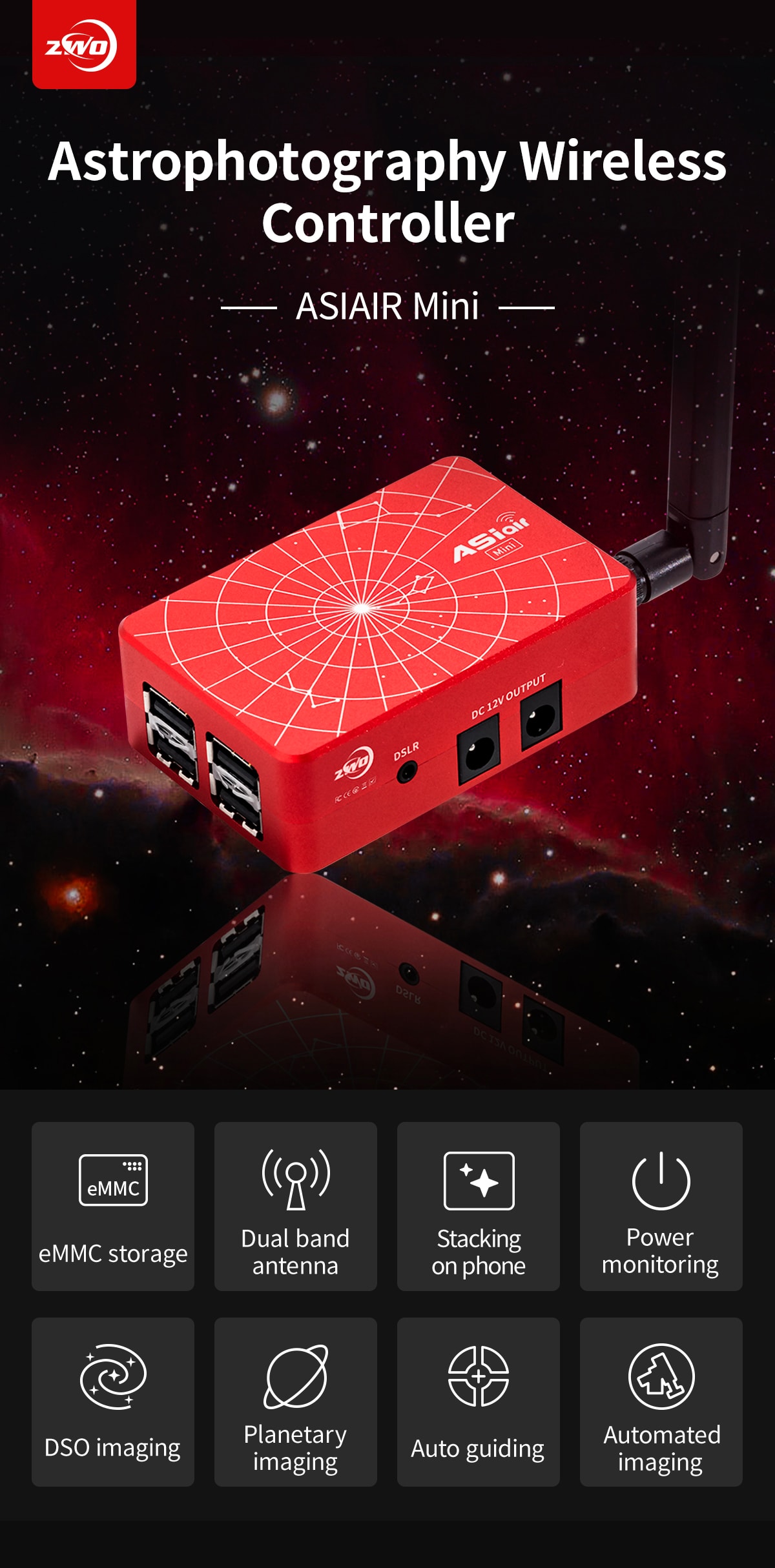 No laptop needed for operation, just your smartphone is enough
With the ASIAIR Mini, you can now leave your laptop behind and control your entire telescope setup wirelessly with your smartphone or tablet. Say goodbye to clunky power supplies and cable hooks. The free ASIAIR app, compatible with both iOS and Android devices, offers everything the modern astrophotographer needs. Gone are the days when you needed multiple software applications on your computer to capture images, perform auto guiding and other tasks. The ASIAIR app does it all.
The ASIAIR app is the same for all ASIAIR models. It can handle alignment to the pole star, has plate solving, takes over the goto function from your mount, tracking of the tracking star (with a ZWO tracking camera), autofocus (with the ZWO EAF) and automatic filter changes (with a ZWO filter wheel). It can even perform more advanced tasks such as mosaic planning, rotation-matching, live stacking and more.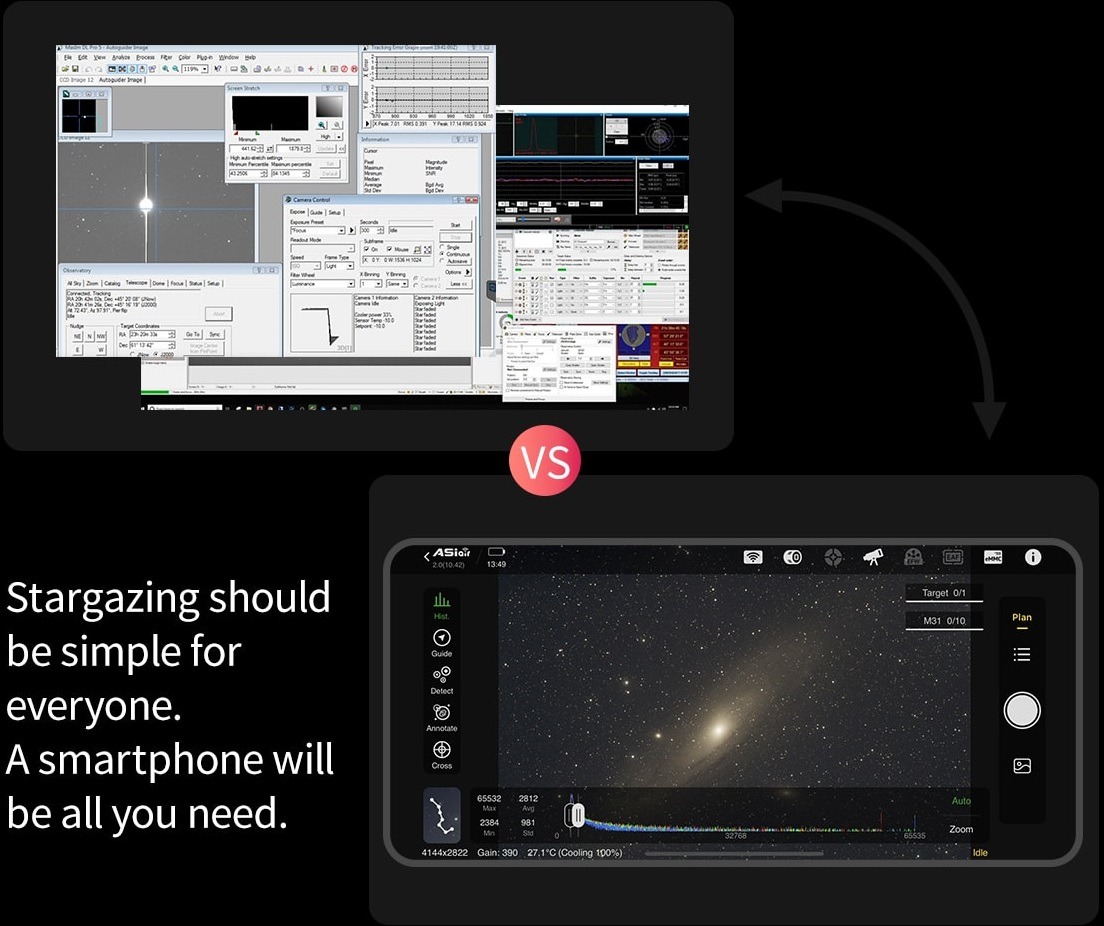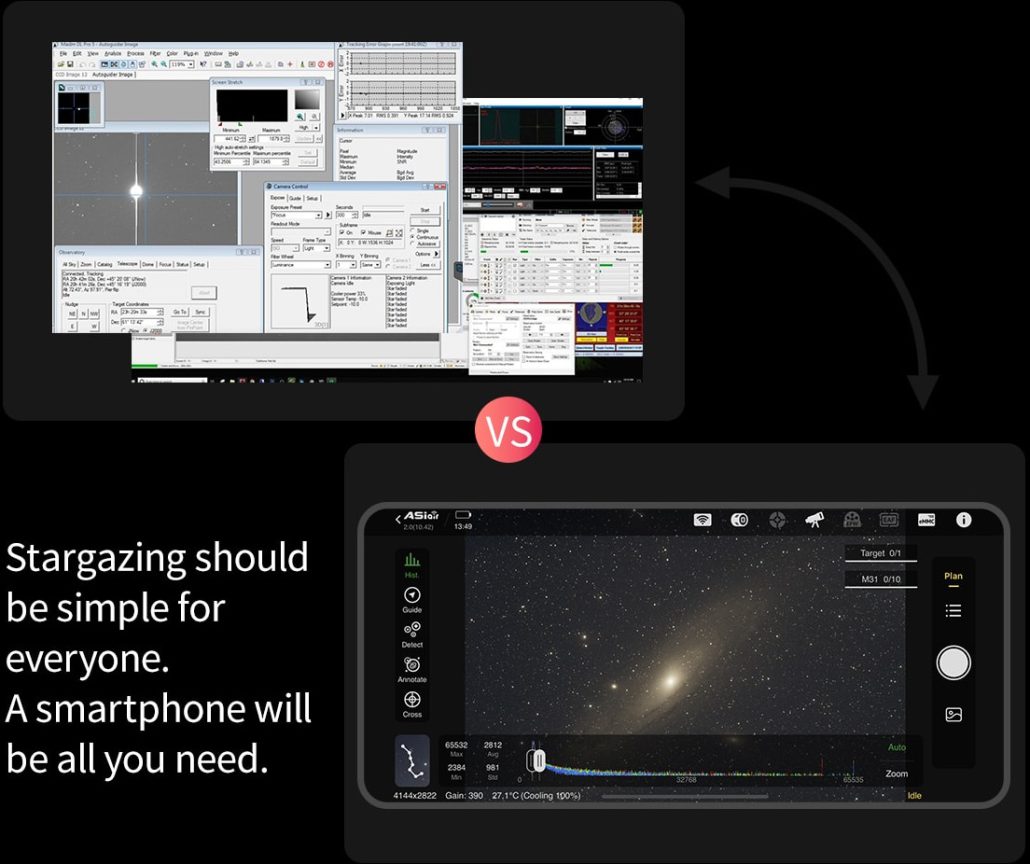 ZWO ASIAIR Plus comparison with the ASIAIR Mini
Building on the tremendous success of the larger ZWO ASIAIR Plus and the previous generation ZWO ASIAIR Pro, the ASIAIR Mini retains most of the best features of its bigger brother in a smaller form factor and costs significantly less. Here are all the specific differences between the Mini and the Plus: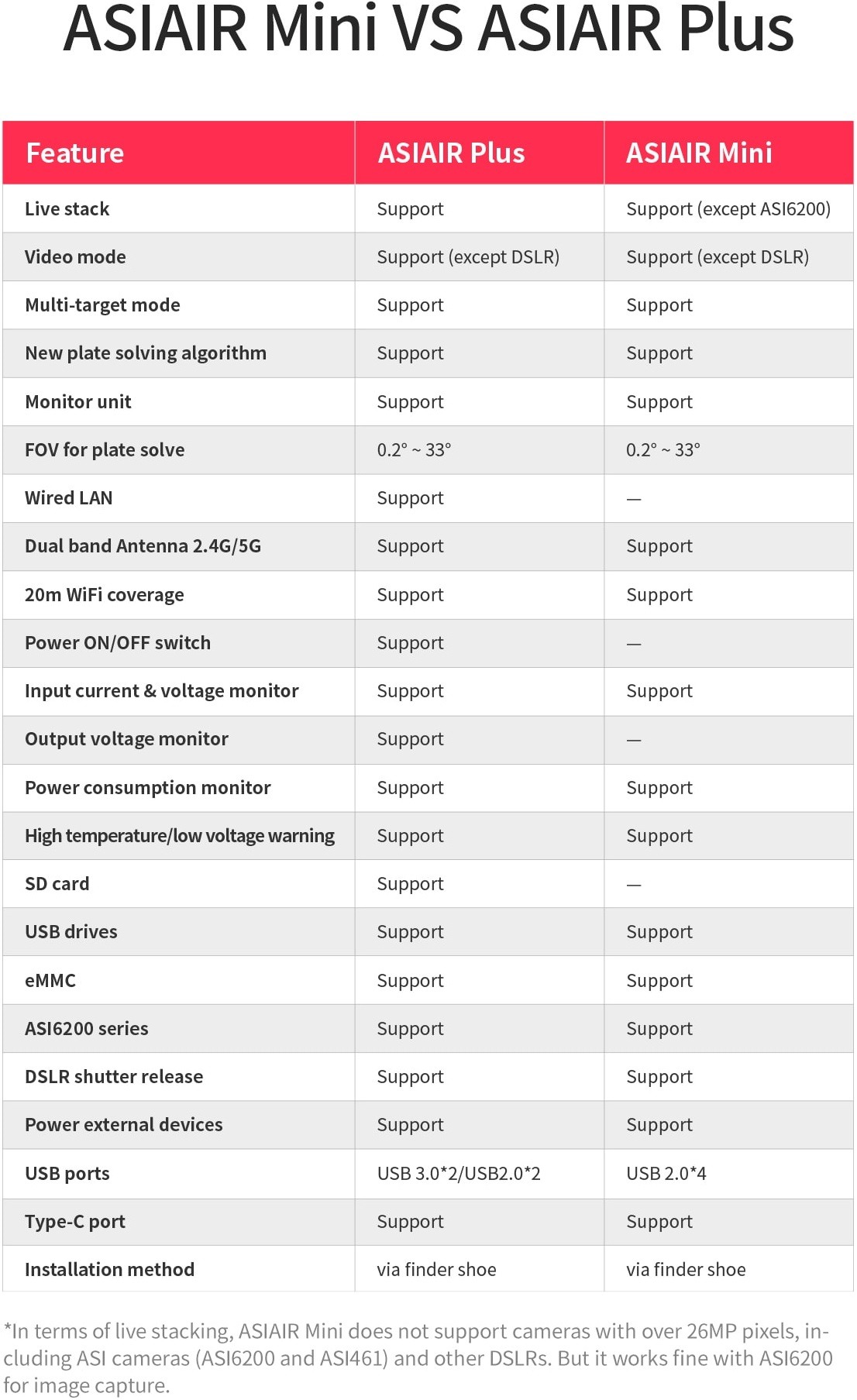 Apart from these differences, the ASIAIR Mini offers the same functionality as the ASIAIR Plus. This includes:
Wi-Fi connection to your telescope system (same range as the ASIAIR Plus antenna)
eMMC internal storage
USB-C port for transferring your data to a computer
DSLR and mirrorless camera release port (see list of supported cameras)
All the same shared features as in the ASIAIR app, including:
Polar alignment tool
Automated routines for image capture
Plate Solving
Auto Guiding
Live Stacking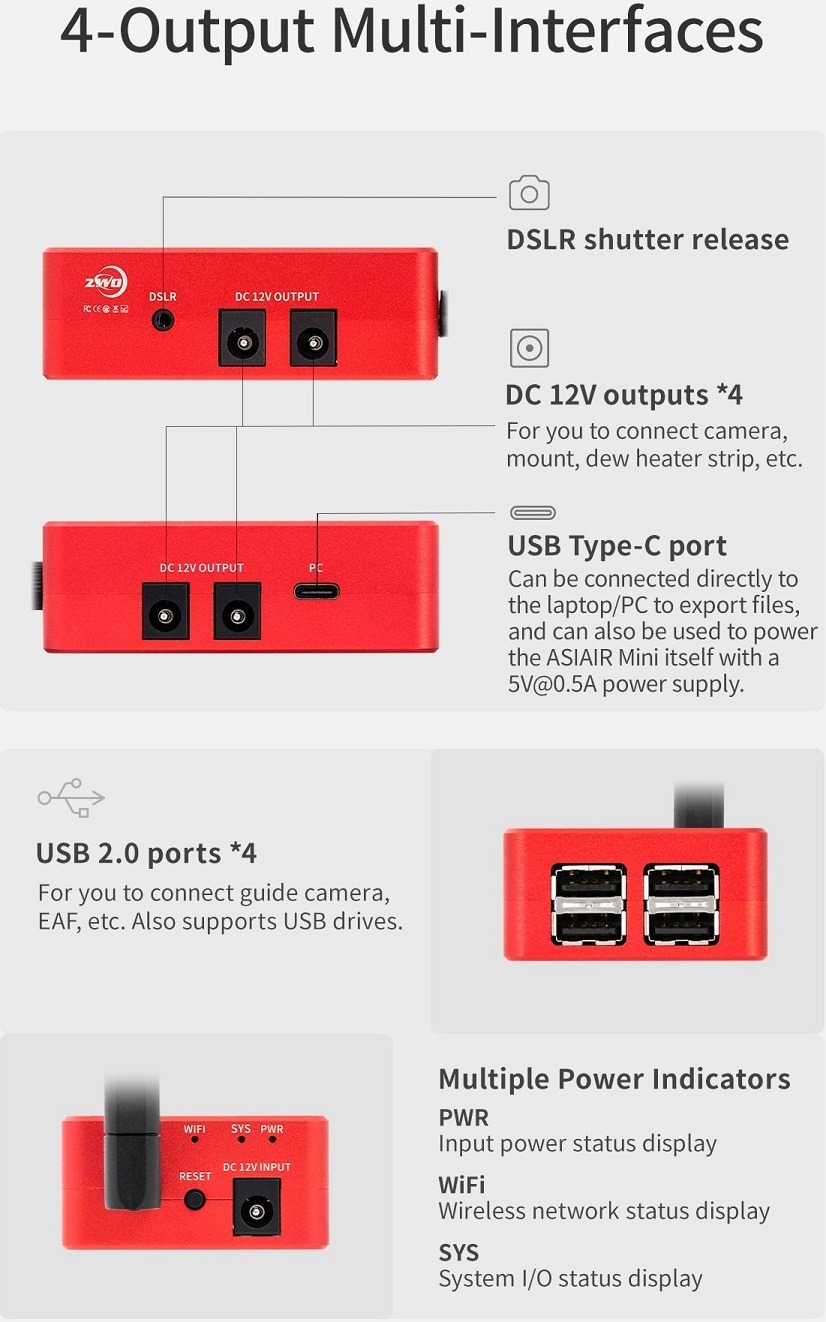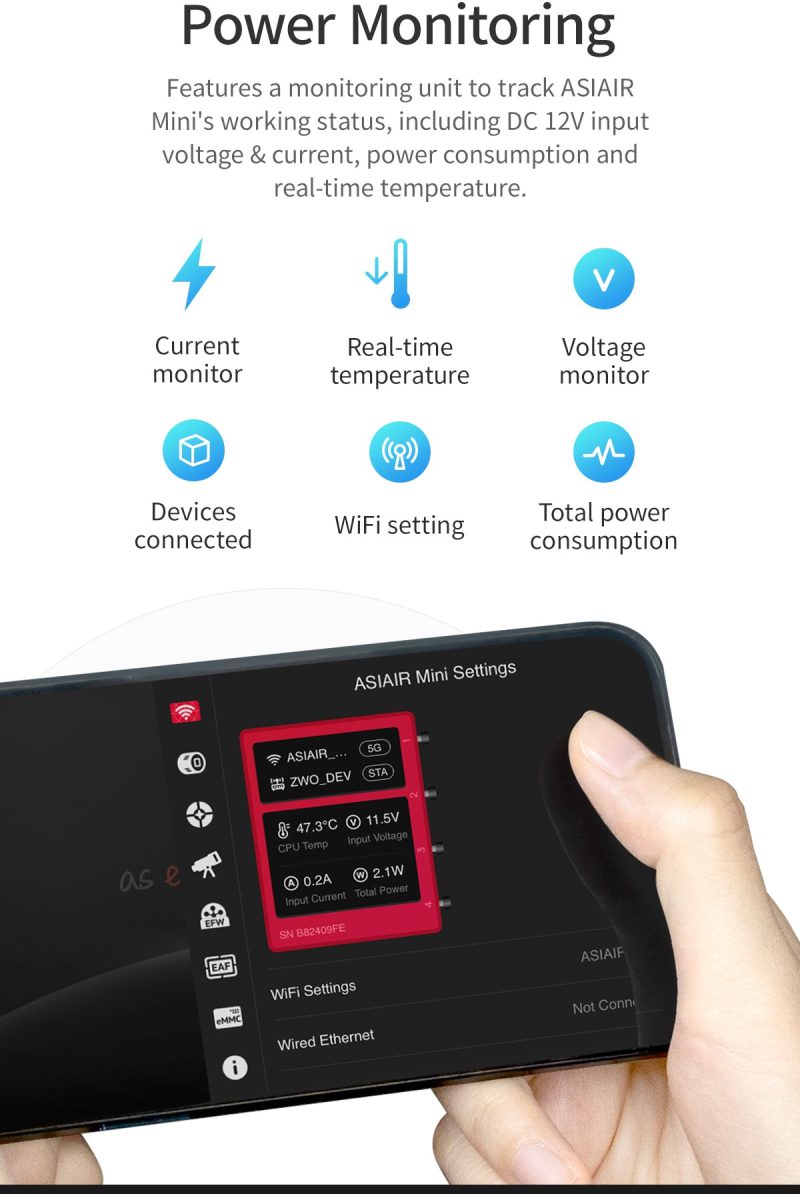 Delivery of the ZWO ASIAIR Mini wifi wireless controller includes: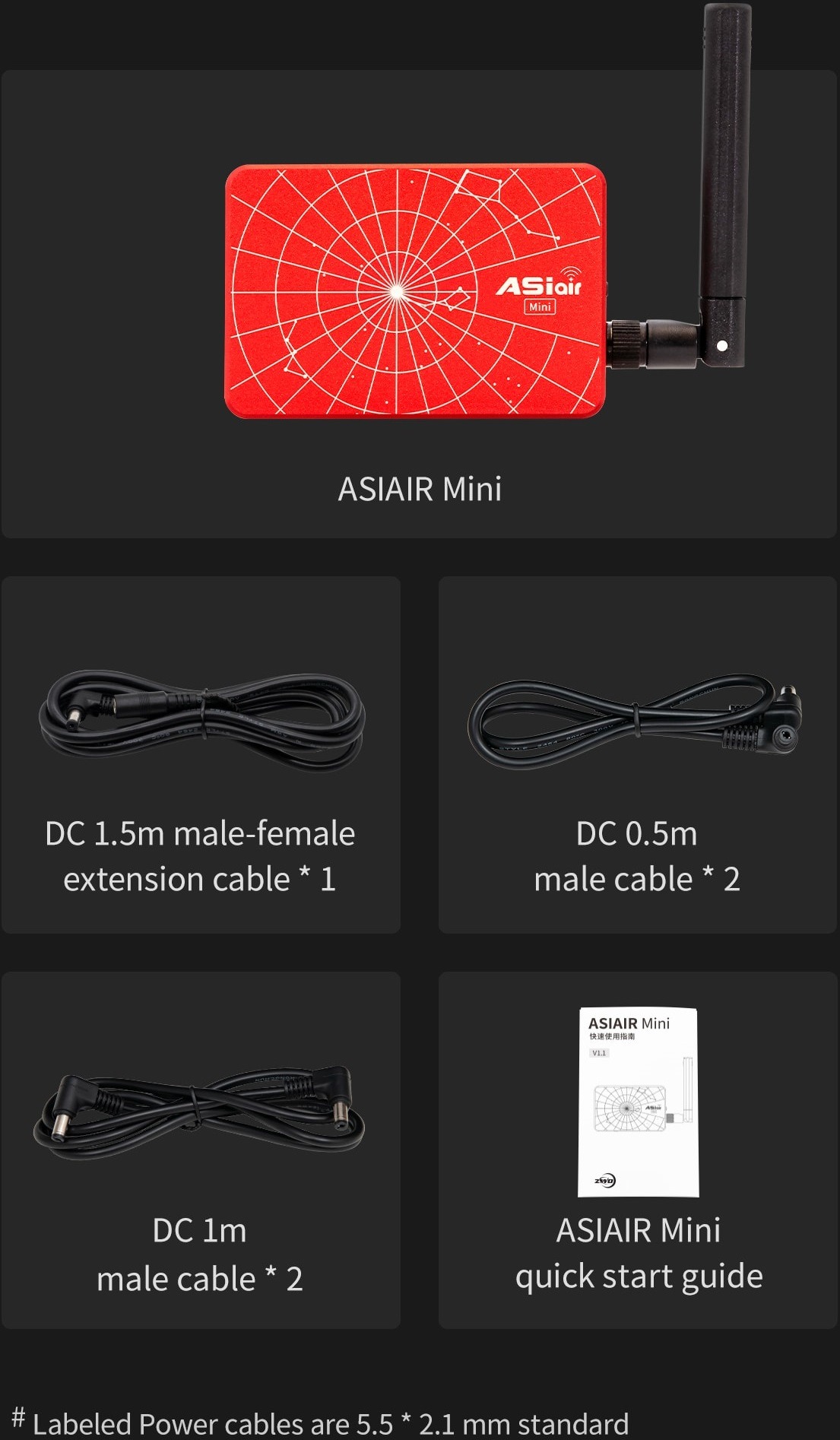 Sizes and weights:
Length: 100 mm
Width: 70 mm
Height: 26 mm
Weight 220 grams
Place your order online or visit the showroom in Amstelveen
Make your astrophotography a little simpler with the ZWO ASIAIR Mini. Order this camera easily online at Ganymedes or visit our showroom in Amstelveen. Or check out our extensive range of ZWO. You are welcome here on weekdays between 10 a.m. and 5 p.m. or on Saturdays between 10 a.m. and 4.30 p.m. Do you have questions about our products? We are always ready with good service. Call 020-6412083 and we will be happy to help you.