Dobsonian telescopes
The Dobsonian telescope invented around 1950 by John Dobson is a very popular type of reflector telescopes. The simple system ensures that you can quickly start observing in relation to other systems. This type does not need a tripod and has a fairly simple construction. Click on "Read more" for our recommended Dobsonian telescopes as well as other information.

Read more
Compared to a parallactic setup, you don't have to point the mount to the north and adjust it to the latitude of the earth. Only tracking with a Dobsonian telescope is slightly less easy compared to a parallactic set-up. Dobsonian reflector telescopes do not suffer from color errors and can handle a higher magnification as standard.
Orion SkyQuest XT6 and XT8 PLUS Dobson Reflector Telescopes
Orion has upgraded the XT Classic models! While their SkyQuest XT Classic Dob has been – and still is – a telescope of choice among budding astronomy enthusiasts for years, Orion has released a "deluxe" version with some cool design improvements and an extensive accessory pack. The result is the sleek, easy-to-use SkyQuest XT PLUS Dobsonian! With sharp, powerful optics and simplicity to point and see, this eye-catching 6″ or 8″ Dobsonian reflector shines like never before.

Starting at the bottom, Orion gave the SkyQuest XT PLUS models a redesigned Dobsonian base with a sleeker, more streamlined look. Weight-saving cutouts in the side panels make it easier to move the base to and from observation areas. A white trim band around the round base plate of the XT6 and XT8 PLUS bases improves visibility in the dark.

The optical tube of the XT PLUS models, which has an attractive 'twilight blue' metallic finish, houses a 150mm (5.9″) or 203mm (8″) parabolic mirror with improved reflective (94%) aluminum coatings for superior light transmission compared to standard mirrors. These telescopes deliver serious magnification power.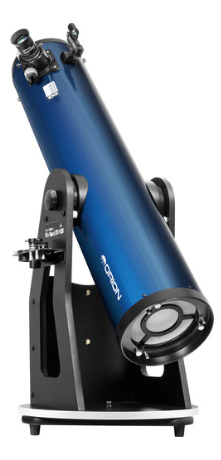 For further product details see the SkyQuest XT6 Plus or the SkyQuest XT8 Plus models pages.