Kowa
Those looking for pure quality cannot ignore KOWA. With a range of binoculars and spotting scopes from the absolute top segment, Kowa offers everything for the discerning birdwatcher and nature lover. With XD lenses to full fluorite crystal lenses, Kowa binoculars have unprecedented clarity, detail reproduction and edge sharpness. Plus, with countless digiscoping solutions, it's easier than ever to take photos with your smartphone or camera, using your binoculars or spotting scope as a telephoto lens.
KOWA in short:
Absolutely top-quality binoculars and spotting scopes
100% fluorite crystal lenses on flagship models
Easy digiscoping: take pictures through the scope with your camera or smartphone
The brand for bird watchers, nature lovers, astronomers, plane spotters and researchers
We offer a 10-year warranty on Kowa products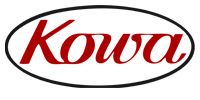 Flagship dealers
In the Netherlands, BENEL has several KOWA Flagship Dealers, including Ganymedes. You can go to Ganymedes for your Kowa binoculars, spotting scopes and digiscoping solutions. We offer the opportunity to test or view the products and can also provide you with the best advice for purchasing a viewer or accessory from Kowa.