Description
PrimaLuceLab Eagle LE Control Unit
In één enkel product heb je de volgende kenmerken zitten:
Met Windows 10 Enterprise-computer kunt u uw favoriete apparaten en software installeren

8 USB-poorten: 4 snelle USB 3.0-poorten plus 4 USB 2.0-poorten met AAN / UIT-mogelijkheid op afstand

4 x 12V stroomuitgangen met externe AAN / UIT-bediening om uw montering, camera en andere 12V-accessoires van stroom te voorzien

3 x variabele 0-12V stroomuitgangen voor dauw linten

Donker modus om alle LED-lampjes uit te schakelen

Krachtige en snelle WiFi 802.11ac met dual-band (2.4 en 5 GHz) verbinding

Controle van het vermogensniveau van elk apparaat dat wordt gevoed via de 12v-uitgangspoorten van de EAGLE LE

EAGLE Manager-interface om eenvoudig alle functies van EAGLE LE te bedienen

PLUS aluminium behuizing, zodat u de EAGLE LE eenvoudig aan elke telescoop kunt bevestigen

Gewicht: 1145 gram
Alles wordt bediend via de meegeleverde EAGLE Manager-software en gehuisvest in een prachtige, stijve aluminium behuizing die is ontworpen met ons flexibele PLUS-montagesysteem. Zodat u de EAGLE LE perfect op elke telescoop kunt aansluiten.
Compatibel met elk astrofotografie apparaat: ingebouwde computer met Windows 10 Enterprise.
De EAGLE LE elimineert de noodzaak van een externe computer en u bent niet beperkt tot een vooraf ingestelde lijst met functies. Je kan elke software en elk apparaat dat je wilt gebruiken op de EAGLE installeren. Het Windows 10 Enterprise-besturingssysteem is 100% compatibel met Windows 10. Maar is lichter en stabieler dan traditionele pc's met Windows 10 Home of andere OEM-versies die vooraf zijn geïnstalleerd met nutteloze bloatware.
PrimaLuceLab heeft de Windows 10 Enterprise-installatie op de EAGLE LE geoptimaliseerd om een ​​sneller besturingssysteem te zijn (de EAGLE LE is slechts 20 seconden na het indrukken van de ON-knop klaar voor gebruik). En om een ​​betere stabiliteit te behouden tijdens je astrofotografie sessies. EAGLE LE gebruikt een 2.0 GHz Celeron-processor (J4005 dual-core met Burst-modus tot 2.7 GHz en 4 MB cache). En 4 GB snel DDR4L RAM geheugen, beide ontworpen voor een laag stroomverbruik. Op deze manier beschikt u over de kracht die u nodig hebt om alle astrofotografie software uit te voeren. Met een apparaat dat weinig energie verbruikt en de algehele draagbaarheid verbetert.
Snelle SSD-opslag om al uw astrofotografie software te installeren en uw gegevens op te slaan.
Anders dan traditionele draaiende harde schijven, heeft de SSD-schijf in de EAGLE LE geen bewegende delen. Dus hij is sneller en duurzamer in de loop van de tijd. Met de flexibiliteit van de EAGLE LE kunt u de foto's op de SSD-drive opslaan voor verwerking rechtstreeks in de EAGLE LE. Of een 3.0 USB-flashdrive aansluiten op een van de snelle USB 3.0-poorten. Op deze manier kan je, als je dat wilt, aan het einde van je sessie de bestanden snel en gemakkelijk naar een externe computer verplaatsen voor verwerking. De interne componenten van EAGLE LE zijn ontworpen voor gebruik in het veld bij uitgebreide temperatuur bereiken. Op deze manier kun je er de hele nacht op doorgeven, in omstandigheden met een hogere luchtvochtigheid. Aangezien de kleine hoeveelheid interne warmte die door de processor wordt gegenereerd, problemen met luchtvochtigheid voorkomen.
Geïntegreerd wifi-systeem waarmee u uw telescoop op afstand kunt bedienen vanaf elk apparaat.
Om EAGLE LE te bedienen, heb je geen toetsenbord en muis nodig. Je kunt de EAGLE LE bedienen via een gratis speciale app, beschikbaar op elke smartphone, tablet of pc met Windows, MacOS, iOS of Android. Schakel de EAGLE LE in, schakel vervolgens de wifi-verbinding van uw apparaat in en selecteer het wifi-netwerk dat wordt aangeboden door de EAGLE LE. Start de afstandsbediening-app en je hebt een EAGLE LE-desktop op je scherm met toegang tot al je astrofotografie software.
Als je wilt, kun je de EAGLE LE ook configureren om verbinding te maken met een reeds bestaand wifi of ethernet netwerk. Waardoor externe toegang via internet mogelijk is  perfect voor observatoria op afstand! Omdat de EAGLE LE geen VNC of andere software voor afstandsbediening gebruikt, is hij sneller en stabieler. Voor uw veiligheid creëert elk EAGLE-apparaat een uniek WiFi-netwerk, van elke andere EAGLE in de buurt. Om andere problemen op een starparty te voorkomen, heeft elke EAGLE ook een uniek toegangswachtwoord dat alleen door jou bekend is.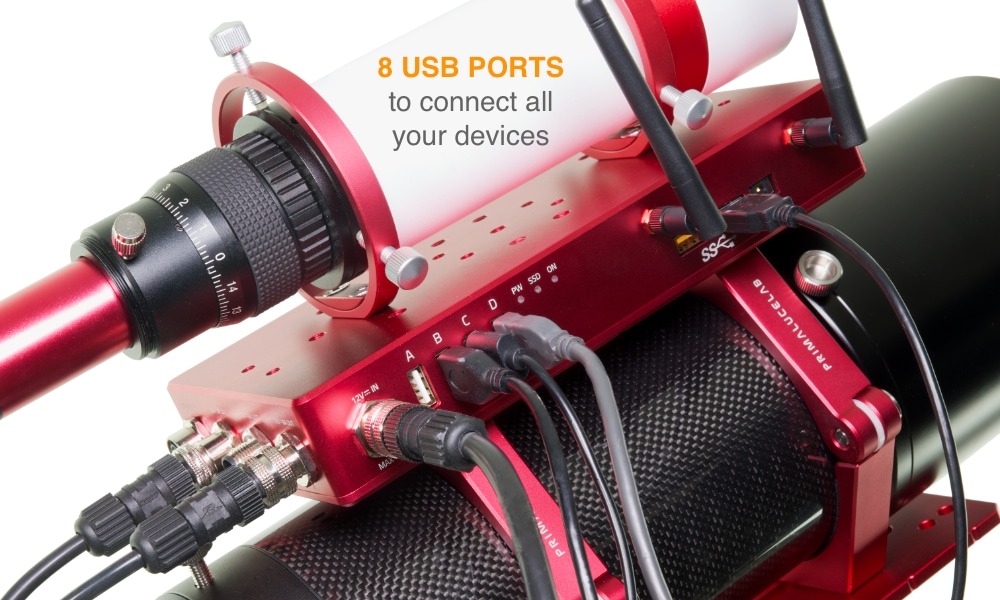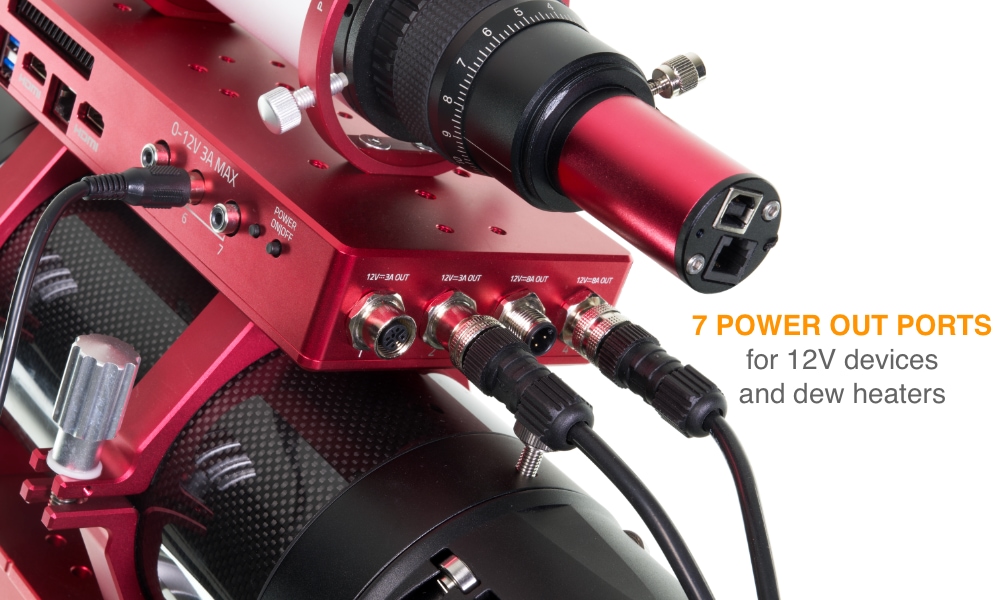 Afmetingen van de PrimaLuceLab Eagle LE Control Unit zijn: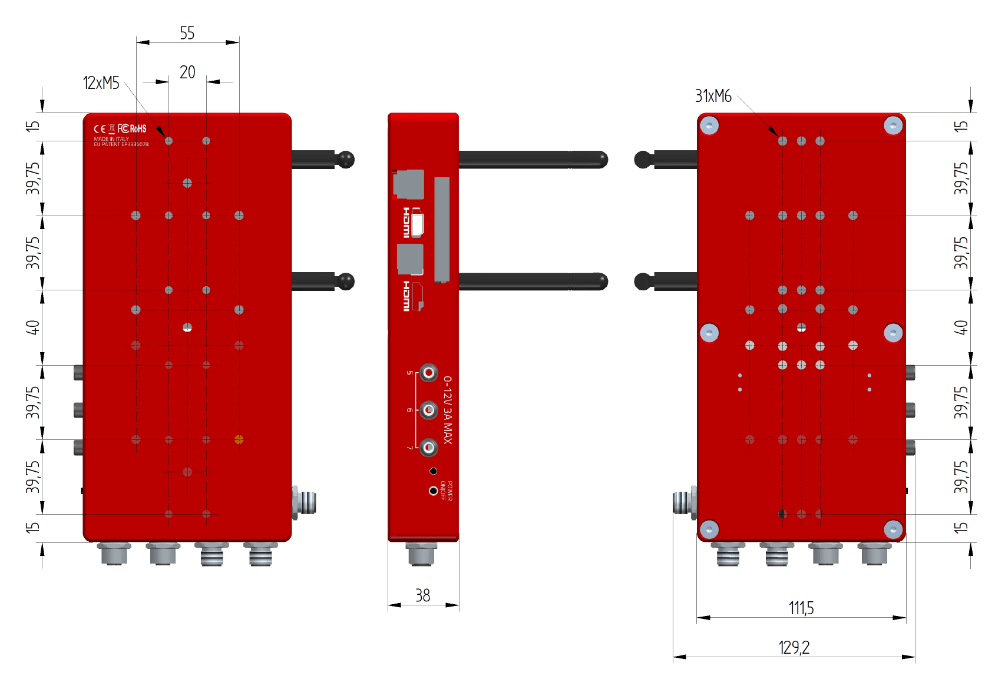 PrimaLuceLab Eagle LE Control Unit Manager-interface om eenvoudig alle functies te bedienen.
Levering van de PrimaLuceLab Eagle LE Control Unit omvat:
EAGLE LE Control unit
2 WiFi antennes
12 volt kabel met sigaretten plug voor EAGLE
Set M6 schroeven in verschillende lengtes
Korte handleiding