Description
Celestron AstroMaster 80EQ met motordrive
Een uitbreiding in de AstroMaster serie met een 80 mm refractor op een equatoriale montering met een motordrive en smartphone adapter. De motordrive zorgt ervoor dat je de draaiing van de aarde opheft. Dit houdt in zodra je een object in het midden van je oculair hebt. En de montering  in de juiste positie staat, deze het object blijft volgen. Op deze manier kan je met de smartphone adapter redelijk eenvoudig een foto maken. Bijvoorbeeld van de maan met zijn kraters.
De AstroMaster 80 word helemaal compleet geleverd met een statief, montering, motordrive, oculairs ( 2 stuks ), diagonaal en een red finder zoeker. En uiteraard de smartphone adapter welke is geschikt voor de meeste smartphones. Voordat je de smartphone adapter erop zet is het slim om te kijken waar je camera precies zit zodat je de adapter alvast globaal kan instellen.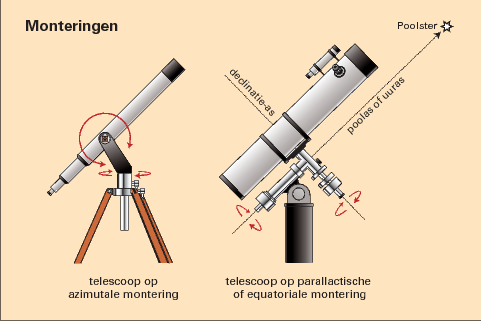 Voor Nederland moet de montering ingesteld worden op 52 graden. Dat is de breedte graad die ongeveer door het midden van Nederland loopt. Tevens is het van belang dat die schuine as naar het noorden word gericht. Zoals op het plaatje links van deze tekst.
De pool as of uur as in het plaatje word richting de Poolster gericht, over deze as volgen we de objecten in een juiste baan. Nu kunnen we dit met de fijn bewegingsknoppen doen of met de bijgeleverde motor.
De motor drive is in te stellen in snelheid en richting, de N en de S staan voor noordelijke of zuidelijke helft van de wereld. Nederland zit op de noordelijk helft en daarom moet de motor op N ingesteld worden.
Kenmerken van de Celestron AstroMaster 80EQ met motordrive zijn:
Complete telescoop
Motordrive
Smartphone adapter
Starry night planetarium software
Equatoriale montering