Description
De meest draagbare slimme digitale telescoop bestuurd door de mobiele app
DWARF II smart telescoop deluxe uitvoering. Ben je een amateurastronoom, vogelspotter, natuurfotograaf of gewoon een fotografieliefhebber. Eentje die dingen moet vastleggen die je niet dichtbij genoeg kunt krijgen? Nou, DWARF II is precies wat je nodig hebt.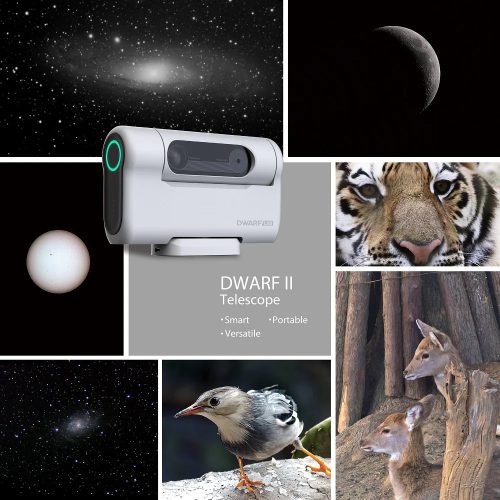 Veelzijdig om opnamen te maken van sterren, vogels en dieren
DWARF II is een digitale slimme telescoop met dubbele camera's en AI-kracht. U kunt opnamen maken van deepsky-objecten, Galaxy en Nebula. Bekijk en neem video's op van vogels en dieren. Het werkt zowel overdag als 's nachts.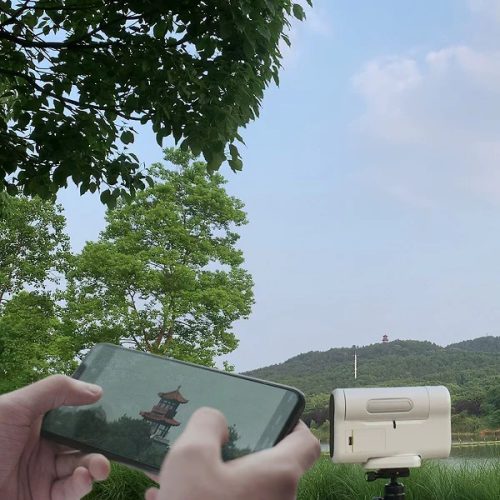 Probleemloze installatie en bediening met uw mobiele app
Verbind je smartphone/tablet met DWARF II via wifi, dan kun je de telescoop draadloos bedienen via de DWARFLAB App (beschikbaar in Android & iOS) en foto's/video's maken. We zullen API- en ontwikkelaarsdocumentatie leveren, zodat u zelfs uw eigen programma's op DWARF II kunt uitvoeren.
Opmerking: zorg ervoor dat uw telefoon/tablet Bluetooth 4.0 & WiFi 5GHz ondersteunt
Dubbel camerasysteem om te bekijken
DWARF II heeft twee camera's, een groothoekcamera en een tele-camera. Met de groothoekcamera kunt u gewone foto's maken met breed zicht of een voorbeeld van het gezichtsveld bekijken. Vind het doel in het midden van de groothoekweergave, dan richt de telelenscamera je doel. En het telebeeld staat altijd op een vaste plek (nabij het midden) van het groothoekbeeld.
Moeiteloos automatisch volgen en stapelen van sterren voor astrofotografie
Door de rotatie van de aarde bewegen de sterren langzaam aan de hemel. DWARF II kan de sterren automatisch volgen. Het kan rond de hoogte en azimut draaien langs de beweging van sterren. DWARF II gebruikt een algoritme voor veldrotatiecorrectie om veldrotatie te voorkomen. Dan kunt u DWARF II gebruiken om deep-sky-objecten met een lange belichtingstijd te volgen. Automatische registratie na meerdere belichtingen, DWARF II stapelt de beelden op tot een helder en duidelijk beeld.
Opladen van de meegeleverde accu pakket gebeurd via een USB-C kabel welke NIET is bijgeleverd. Oplaadtijd is ongeveer 1 uur en je kan op 1 lading ongeveer 3 uur werken.
Levering van de DWARF II smart telescoop deluxe uitvoering omvat:
DWARF II telescoop
Opbergtas
2 stuks oplaadbare batterijen
64 GB microSD kaart
Mini statief
UHC-Filter
ND Solar filter 2 stuks
Filter adapter
Gewicht: 1.2 kilo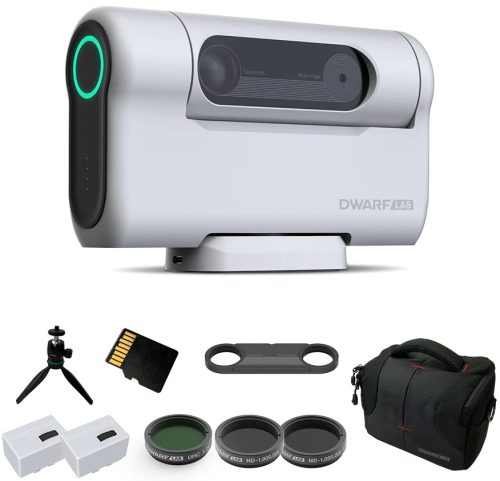 Plaats je bestelling online of kom langs in de winkel
Heb je gevonden wat je zoekt en wil je bijvoorbeeld de DWARF II bestellen? Dan doe je dit heel eenvoudig online. Bekijk je deze producten liever in het echt voordat je ze koopt? Ook dat is bij ons mogelijk. Je bent van harte welkom in onze showroom in Amstelveen van maandag tot vrijdag tussen 10.00 en 17.00 uur. Op zaterdag is de showroom ook geopend, maar dan van 10.00 tot 16.30 uur. Voor meer informatie en advies kun je ook telefonisch contact met ons opnemen via 020-6412083. We helpen je graag.