Description
William Optics ZenithStar 61II goud APO telescoop
William Optics heeft zijn ZenithStar 61 een opfris beurt gegeven en heeft diverse kleine verbeteringen door gevoerd.
De verbeteringen zijn :
Nieuwe tube ring
Echte Vixen stijl zwaluwstaart
Handvat met guide scope optie
CNC gemaakt
Al deze verbeteringen maken de telescoop stabieler, makkelijker in gebruik en fraaier om naar te kijken.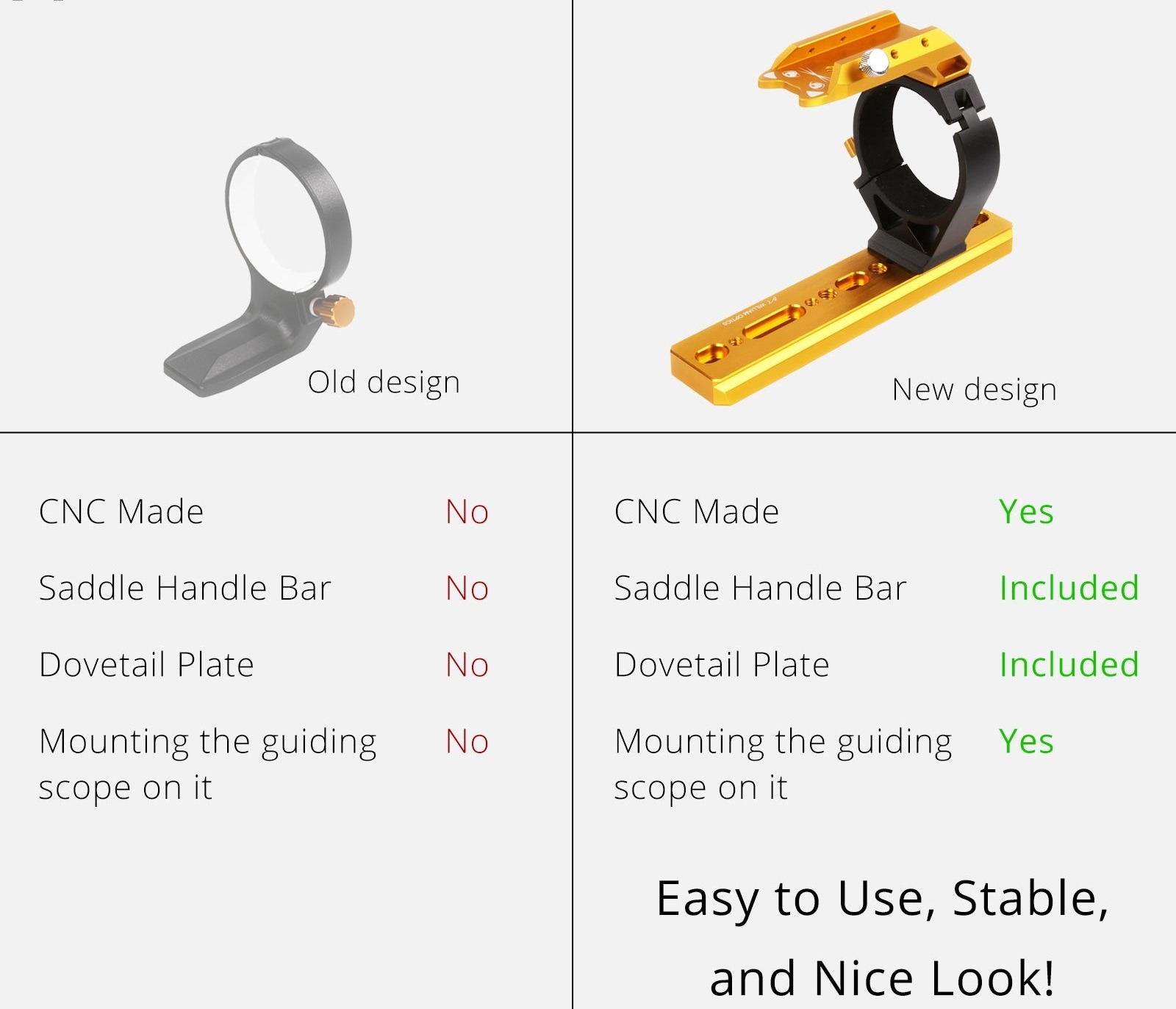 De nieuwe ZenithStar 61 II heeft dezelfde lens gekregen, een doublet lens met FPL-53 glas. Dit geeft de telescoop een uitstekende kleurcorrectie. Brandpunt van de telescoop is 360 mm en f ratio is f/5.9.
Focusseerinrichting is nog steed een rack and pinion met een 2 inch accessoire aansluiting en een adapter naar 1.25 inch. Met de dual speed scherpstelknoppen kan je nauwkeurig scherpstellen. Op de linker knop een kleine gadget van William zelf, een temperatuur meter. Gebruik maken van een auto focus motor is optioneel.
Andere slimme bijkomstigheid op de ZenithStar 61 II is het Bahtinov masker verwerkt in de dop. Je hebt dus eigenlijk een stof dop en Bahtinov masker in een. Allemaal van aluminium gemaakt en het masker van doorzichtig plastic.
Er zijn 2 soorten flatteners op de markt voor de ZenithStar 61 II, dat zijn een flattener (Flat61A en een flattener reducer (Flat61R). Allebei instelbaar op de juiste afstand zodat met een DSLR of ZWO camera direct de juiste backfocus bereikt kan worden. Met de Flat61R maak je van de ZenithStar 61 zelfs een hele snelle telescoop door de 0.8x reductie van het brandpunt. F ratio word dan f/4.72.
Levering van de William Optics ZenithStar 61II goud Apo omvat:
William Optics ZenithStar 61 II met R & P focusseerinrichting 2 inch
Adapter van 2 inch naar 1.25 inch
Draagtas zacht materiaal
Kleur wit en goud
Handvat in kleur met sleuf voor bijvoorbeeld Uniguide guidescope
Vixen stijl zwaluwstaart in kleur
Telescoop beugel