Description
William Optics zwaluwstaart korte uitvoering met 3 sleufjes
Introductie van de unieke nieuwe Dual Side zwaluwstaartplaat voor uw scoop en cameralens William Optics DSD110 Rood zwaluwstaart.
William Optics zien nieuwe innovatieve DSD110-plaat heeft zowel "Vixen en Arca Swiss-formaat aan de tegenoverliggende kant". De plaat heeft ook twee gaten met 1 / 4-20 schroefdraad, het is zo gemakkelijk te gebruiken met de meeste camera's, cameralenzen en kleine reeksen op beide vixen-stijlen of Arca Swiss zwaluwstaart.
William Optics levert ook in dezelfde Vixen en Arca Swiss stijl de DSD 210 en de DSD 245. Dit zijn langere uitvoeringen met iets meer mogelijkheden voor bevestiging van je telescoop/accessoirs.
Kenmerken van de William Optics DSD 110 Rood zwaluwstaart zijn:
Lengte 110 mm
Vixen type zwaluwstaart
Arca Swiss type Camera statiefaansluiting.
Gewicht 140 gr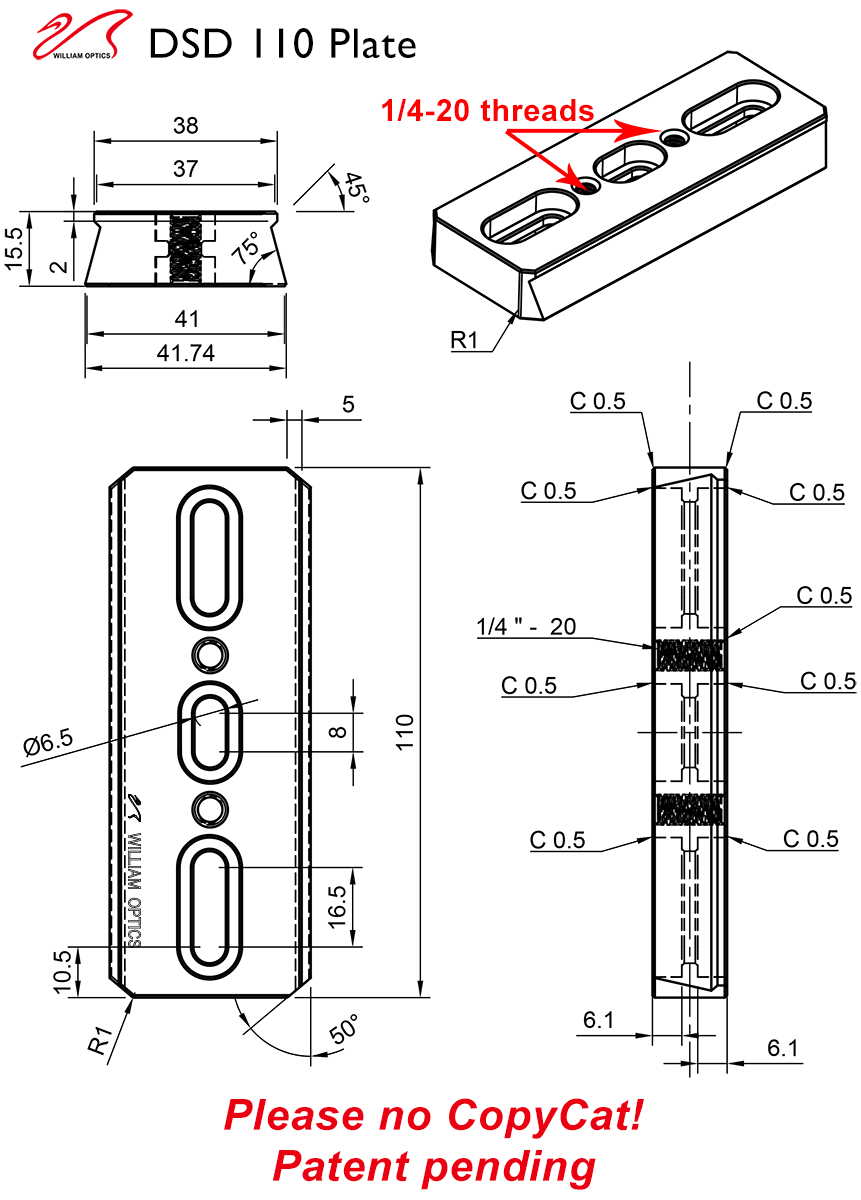 Levering van de William Optics DSD110 Rood zwaluwstaart omvat:
Arca Swiss / Vixen stijl zwaluwstaart in de kleur Rood
Plaats je bestelling online of kom langs in de winkel
Heb je gevonden wat je zoekt en wil je bijvoorbeeld de William Optics Uniguide bestellen? Dan doe je dit heel eenvoudig online. Bekijk je William Optics producten liever in het echt voordat je ze koopt? Ook dat is bij ons mogelijk. Je bent van harte welkom in onze showroom in Amstelveen van maandag tot vrijdag tussen 10.00 en 17.00 uur. Op zaterdag is de showroom ook geopend, maar dan van 10.00 tot 16.30 uur. Voor meer informatie en advies kun je ook telefonisch contact met ons opnemen via 020-6412083. We helpen je graag.