Description
Omegon Mount Mini Track LX3
De Omegon Mount Mini Track LX3 is een mini-montering voor gegarandeerd geweldige astro foto's – met lichte groothoek-telelenzen. Het is verbazingwekkend eenvoudig om prachtige uitzichten op de sterrenhemel vast te leggen, zelfs wanneer u zichzelf geen begaafd astrofotograaf vindt. De MiniTrack werkt daarnaast zonder elektriciteit, puur mechanisch. De voorganger heeft het al goed werk geleverd, maar de MiniTrack LX3 is op sommige gebieden verbeterd en werkt nu 60% nauwkeuriger. Verheug u op prachtige foto's die iedereen zullen betoveren. Overtuig uzelf en creëer aantrekkelijke beelden in een handomdraai.
De voordelen op een rij:
Fotografeer de sterrenhemel succesvol en moeiteloos overal op het noordelijk halfrond
Nooit opladen: werkt via een mechanisme dat niet afhankelijk is van batterijen of stopcontacten
Montering opstellen en onmiddellijk aan de slag gaan
Optimaal voor overzichtsbeelden van de sterrenhemel en voor telelenzen
De bijzondere voordelen van de MiniTrack LX3:
Meer draagvermogen: de MiniTrack LX3 kan nu nog meer gewicht aan – camera's en apparatuur tot 3 kg
Een groot Teflon-glijlager zorgt voor een vloeiendere en vlottere beweging
Nog beter aan te passen: het sterkere veersysteem remt of versnelt de beweging
CNC-behuizing: nu nog beter, mooier en vooral stabieler geworden
Optische poolzoeker voor een precieze uitlijning met de hemelpool en voor een perfecte tracking voor mooie beelden van sterren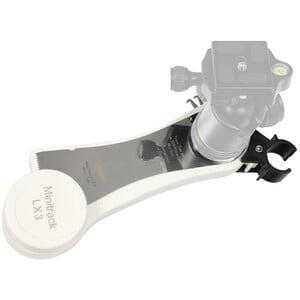 Keuze uit een versie zonder balhoofd of een versie met balhoofd.
Het Balhoofd is ook van Omegon zelf en is het model OM8.  Het draagvermogen van dit kleine balhoofd is 3 kilogram. Op dit balhoofd kan je makkelijk een DSLR camera op bevestigen. Zelfs een grotere DSLR past hier nog op. Balhoofd zelf weegt 310 gram en is voorzien met een snelkoppeling. Standaard camera aansluiting van 1/4 inch en statief aansluiting van 3/8 inch.
Door de schaalverdeling op dit balhoofd, in 2 deling van 0 tot 180 graden, maakt dit balhoofd ideaal voor panoramisch opnames.
Betere astro foto's thuis en op reis
Neem niet alleen vakantiefoto's mee naar huis van uw reis, maar ook indrukwekkende astro foto's. Het is makkelijker dan u denkt. Alles wat u nodig heeft: een statief, de MiniTrack, een balhoofd en uw camera. Terug naar de essentie en met één missie: goede astro foto's die iedereen kan maken. En zo lukt dat altijd!
Mechanische, 60 minuten durende tracking
De MiniTrack heeft een mechanisch hart; elektronica heeft hier niets te zoeken. Een nauwkeurig uurwerk volgt uw camera uiterst precies. Wind de MiniTrack op als een analoge klok en de tracking wordt geactiveerd. Deze montering blijft altijd doorgaan, zelfs bij temperaturen onder het vriespunt. En ook bij telelenzen houdt uw nieuwe montering het hoofd koel. Het is niet voor niets dat deze expert op het gebied van breedbeeldopnamen de harten van amateurastronomen heeft veroverd.
Net als een contragewicht: geavanceerd veersysteem
De MiniTrack LX3 heeft geen contragewicht, maar een veersysteem dat als een contragewicht fungeert. Dit maakt de MiniTrack uiterst compact en makkelijk te vervoeren. En nu nieuw: een beter veersysteem dat uw camera in positie houdt in het geval van een eenzijdige belasting en dat het trackingproces afremt of versnelt. Daardoor bent u flexibeler en verloopt de tracking van de sterren nog nauwkeuriger.
Tip: een ideale volgsnelheid wordt bereikt wanneer het uurwerk 130-135 keer per minuut tikt. Afhankelijk van het gewicht van uw camera moet u de veer in verschillende mate opspannen. Wij raden u aan om de tikken per minuut met een "TapTempo-App BPM" voor smartphones te bepalen. Deze apps komen eigenlijk uit de muziekwereld en moeten automatisch het tempo van een muziekstuk meten. Maak gebruik van een dergelijke app om de snelheid van de MiniTrack te meten.
Groot Teflon-glijlager
De hele constructie van de MiniTrack is beter geworden: dankzij de grotere Teflon-glijlager verloopt de beweging bijzonder vloeiend. Vanaf nu beweegt uw camera nog soepeler tijdens het volgen.
CNC-behuizing
De nieuwe behuizing van de MiniTrack LX3-montering is niet alleen visueel mooier, maar ook duurzamer. Het gefreesde aluminium van deze montering is veel resistenter. Maakt u zich geen zorgen wanneer uw montering het zwaar te verduren krijgt. De kwaliteit blijft ook na jaren consistent.
Hogere draagkracht, net zo goed te vervoeren
Een beetje meer mag altijd: de MiniTrack draagt nu camera's tot 3 kg. Maar de montering blijft even klein, licht en draagbaar als vroeger. Het verschil: u kunt nu ook een camera met een grotere of langere lens gebruiken. Verheug u op de gebruikelijke hoge stabiliteit.
De hemelpool exact lokaliseren
Met de optische poolzoeker is het vinden van de hemelpool een fluitje van een cent. De Omegon Mount MiniTrack LX3 wordt geleverd met een houder en een poolzoeker. Die laatste wordt ook gebruikt op grote monteringen. Dit maakt het nog gemakkelijker om de MiniTrack LX3 uit te lijnen voor het vastleggen van beelden met puntvormige sterren.
Past op ieder camerastatief
De MiniTrack is voorzien van twee aansluitingen: één voor het statief en één voor uw camera of een balhoofd. Plaats de montering met behulp van een 1/4 inch-schroef zoals gebruikelijk op uw camerastatief en lijn de MiniTrack naar wens uit. Aan de andere kant monteert u een balhoofd met een 3/8 inch-schroefdraad.
Uitgevonden en ontwikkeld door Cristian Fattinnanzi
De MiniTrack-montering werd ontwikkeld door Christian Fattinnanzi uit Italië. Omegon heeft de distributie overgenomen en stelt de montering zo ter beschikking van een grotere kring van fotografen en natuurliefhebbers.
Met deze volledig mechanische mini-montering kunt u in een handomdraai astro foto's nemen. Geen elektriciteit. Niet opladen. Geen batterijen. Gewoon fotograferen. Altijd en overal.
Levering van de Omegon Mount Mini Track LX3 omvat:
Omegon Mini Track LX3
Poolzoeker
Keuze uit levering zonder of met balhoofd