Description
Celestron StarSense Explorer DX 102AZ
Celestron heeft de handbediende telescoop opnieuw uitgevonden met StarSense Explorer. De eerste telescoop die uw smartphone gebruikt om de nachtelijke hemel te analyseren en zijn positie in realtime te berekenen. StarSense Explorer is ideaal voor beginners dankzij de gebruiksvriendelijke interface van de app en gedetailleerde tutorials. Het is alsof je je eigen persoonlijke gids van de nachtelijke hemel hebt.
Docken, starten, verkennen
Laat ingewikkelde sterrenkaarten, onnauwkeurige planetarium-apps en computergestuurde houders achter. Met StarSense Explorer is het lokaliseren van objecten nog nooit zo eenvoudig, sneller of nauwkeuriger geweest. Binnen enkele minuten na het opstellen van de telescoop navigeert je met vertrouwen door de lucht. Plaats je telefoon in het unieke StarSense-dock en start de StarSense Explorer-app. Nadat je je telefoon hebt uitgelijnd met de optiek van de telescoop (een snelle procedure van 2 minuten), genereert StarSense Explorer een lijst met momenteel zichtbare hemellichamen. Zorg ervoor dat uw selectie en pijlen op het scherm verschijnen en je begeleiden bij het verplaatsen van de telescoop. Wanneer het object gereed is om te bekijken, wordt de roos groen.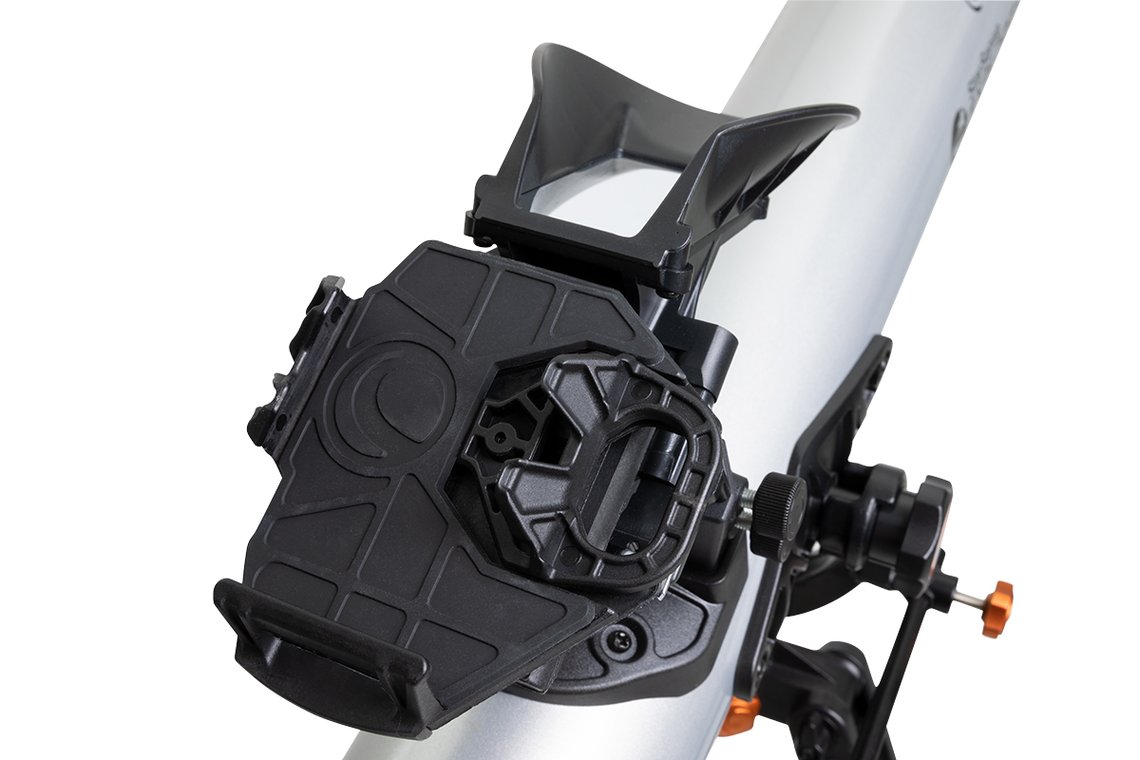 Compatibiliteit met smartphones
StarSense Explorer werkt met de meeste moderne smartphones, waaronder iPhone 6 en hoger en de meeste apparaten met Android 7.1.2 of hoger die sinds 2016 zijn vervaardigd. Klik hier voor een volledige compatibiliteitslijst.
StarSense Explorer maakt gebruik van technologie waarop patent is aangevraagd en uw smartphone om precies te bepalen waar de telescoop in de nachtelijke hemel staat. Een Lost in Space Algorithm (LISA), zoals die welke satellieten in een baan gebruiken om zichzelf correct te heroriënteren, helpt de app om sterpatronen te matchen die het overhead detecteert in zijn interne database.
Terwijl andere astronomie-apps kunnen beweren dat ze je kunnen helpen om objecten te vinden, vertrouwen ze uitsluitend op de gyros en versnellingsmeters van de telefoon, die niet zo nauwkeurig zijn als LISA-technologie. Geen enkele andere app kan je nauwkeurig vertellen wanneer uw doel zichtbaar is in het oculair.
Hoogwaardige Alt azimuth-houder met Slow Motion Control
Een ultra stabiele alt azimuth bevestiging biedt een stevige basis voor StarSense Explorer DX. Slip koppelingen en vertraagde vertragingsbedieningen in beide assen helpen je de telescoop soepel en nul in uw doel te bewegen. Terwijl hemellichamen door de nachthemel lijken te drijven, kun je ze volgen met slechts een draai aan de knoppen. Het is allemaal verankerd door een instelbaar statief op volledige hoogte.
Fraaie weergaven met 102 mm lens en XLT coatings
Met een grote 102 mm (4 inch) objectief lens heeft deze telescoop voldoende vermogen om licht te verzamelen om indrukwekkende details in hemellichamen naar voren te brengen. Je kunt een scherp, helder uitzicht verwachten op de vier Galileïsche manen van Jupiter, de cloud bands en Great Red Spot, de ringen van Saturnus, het trapezium in de Orion nevel en het prachtige Pleiades Open Star Cluster. De XLT optische coatings van Celestron verbeteren de lichttransmissie en verbeteren het uitzicht nog meer.
Perfect voor sites in de stad of de donkere lucht
Zelfs als je in een licht vervuilde stads locatie woont, is StarSense Explorer geavanceerd genoeg om Jupiter, Saturnus, Venus, de Orion nevel, dubbele sterren en nog een paar van de beroemdste hemellichamen te kunnen onderscheiden.
Maar als u de telescoop naar een nog iets donkerdere locatie kunt brengen, worden meer objecten zichtbaar. Met deze 4 inch refractor en relatief donkere luchten zijn de Andromeda Galaxy, Hercules Open Star Cluster en nog veel meer gemakkelijk binnen handbereik.
De hele telescoop kit weegt slechts 6.44 kg, dus hij is perfect draagbaar en gemakkelijk mee te nemen tijdens uw volgende kampeerreis of naar een observatieplaats op afstand.
Levering van de Celestron StarSense Explorer DX 102AZ omvat:
102 mm optische refractor buis
StarSense-dock voor uw smartphone
Oculair 25 mm (26 x vergroting) en oculair 10 mm (66 x vergroting)
90 graden rechtopstaande beelddiagonaal
StarPointer-zoeker met rode punt, perfect voor gebruik van de telescoop overdag of zonder de StarSense Explorer-app
Alt azimuth-bevestiging met slow motion-bediening
Statief op volledige hoogte met een accessoire vak om je georganiseerd te houden