Beschrijving
PrimaLuceLab EAGLE4 advanced control unit voor Telescopen
EAGLE4 is the most advanced all-in-one computer for telescopes and astrophotography. Discover the next level of remote control and power, now with GPS, EYE sky quality sensor and DARK mode. Inside the unique PLUS aluminum housing, the EAGLE4 includes a powerful Windows 10 Enterprise computer with fast SSD storage, eight USB ports, an advanced power distribution system for all of your imaging accessories with seven power out ports, a special WiFi system to wirelessly control your telescope, GPS sensor with high gain antenna to automatically detect your position and time, EYE sensor to monitor sky quality in the area your telescope is pointed, DARK mode to disable all of the LEDs on the EAGLE and much more!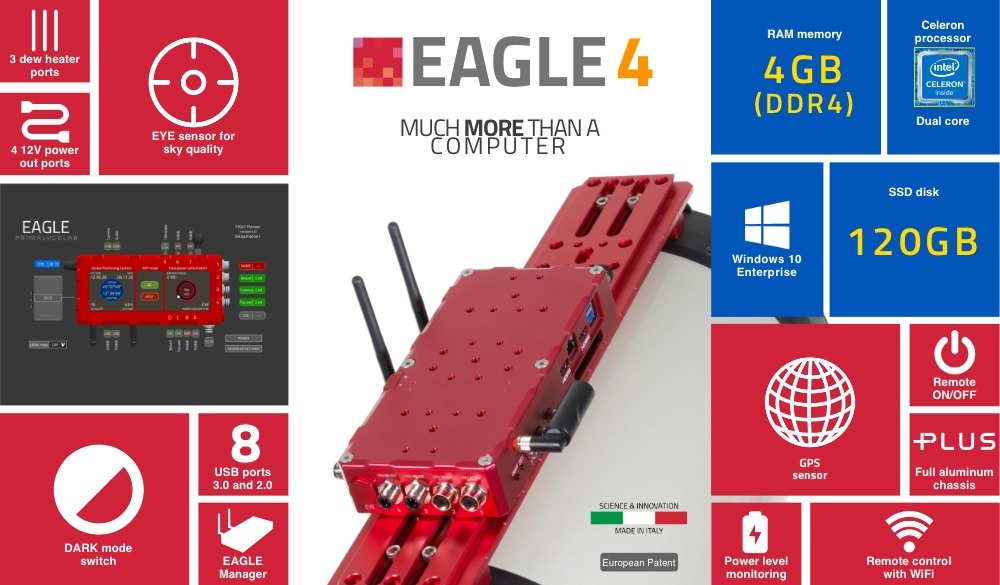 Replace your standard laptop or desktop computer with the EAGLE and you will spend less time setting up your equipment and more time imaging! Since it includes a Windows 10 computer, EAGLE allows you to use your preferred devices and software from any manufacturer without limitation, while also offering many advantages and features you can't find in a standard computer.
PrimaLuceLab's engineers designed the EAGLE all-in-one solution (design protected by European Patent EP3335078) to be used with any telescope. By connecting data and power cables to the EAGLE, when the telescope will move all the cables will move accordingly, preventing detachments and providing the best solution for your cables management. All you need is a single power cable from your battery or AC adapter to your EAGLE!
PrimaLuceLab EAGLE4 advanced control unit
Windows 10 Enterprise computer lets you install your preferred devices and software
8 USB ports: 4 high speed USB 3.0 ports plus 4 USB 2.0 ports with remote ON/OFF capability
4 x 12V power out ports with remote ON/OFF control to power your mount, camera and other 12V accessories
3x variable 0-12V power out ports for dew heaters
GPS sensor with high gain antenna to automatically detect latitude, longitude, elevation, date and time
EYE sensor to monitor sky quality where the telescope is pointed (field of view: 5 degrees)
DARK mode to turn off all the LED lights
Powerful and fast WiFi 802.11ac with dual band (2.4 and 5 GHz) connection
Power level monitoring of every device powered through the 12v power out ports of the EAGLE
EAGLE Manager interface to easily control all the EAGLE's features
PLUS aluminum case, allowing you to easily attach the EAGLE to any telescope
Weight: 1270 gr.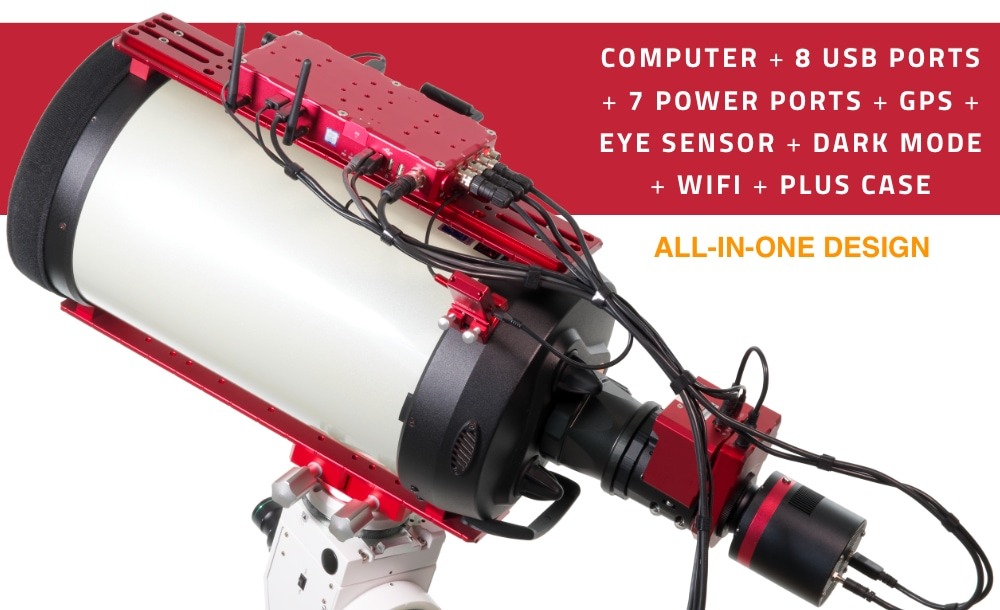 Don't let others decide for you what devices to use and how to make astrophotography! You are the telescope operator and you decide what devices and software you use. By including a powerful Windows 10 Enterprise computer (that is 100% compatible with any software and driver created for Windows 10 64 bit), the EAGLE will work with all the devices (that come with Windows 10 64 bit drivers) and Windows 10 software. Windows 10 Enterprise operating system is lighter-weight and more stable than traditional PCs with Windows 10 Home or other OEM versions that come preinstalled with useless bloatware. EAGLE uses a 2.0 GHz Celeron processor (J4005 dual-core with Burst Mode up to 2.7 GHz and 4MB cache) and 4 GB of fast DDR4 RAM memory – both designed for low power consumption. This way you have the power you need to run any DSO astrophotography software with a device that's easy on your battery, improving overall portability. The included high capacity SSD drive (faster and more durable over time over traditional spinning disks) allows you to save your data on the SSD drive in the EAGLE (or you can connect a 3.0 USB flash drive to one of the high speed USB 3.0 ports).
EAGLE EYE to monitor sky quality only where the telescope is pointed.
Did you ever want to check the sky quality of your telescope's field of view? Have you ever dreamed of being able to monitor the sky all night long, even when your telescope is moving and while you're asleep? The new EYE sensor automatically measures the sky brightness for you (in magnitude per square arc second – mag/sq arcsec) with a 5 degree field of view, only where your telescope is pointed! The EYE value is shown in real time in the EAGLE Manager interface where you can easily monitor sky quality measurements. EAGLE4 has two EYE sensors, one on each end of the EAGLE. Based on how you orient your EAGLE on your telescope, you can simply unthread and move the lens to the other sensor that is pointing to the sky, select the proper position of the lens in the EAGLE Manager interface, and you are ready to read the sky brightness in any installation.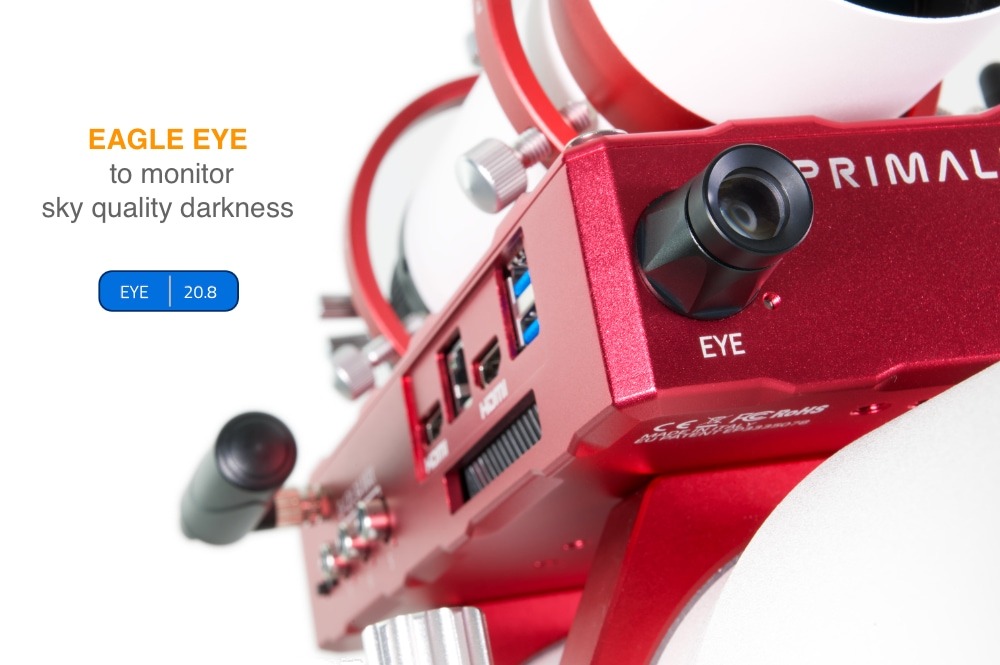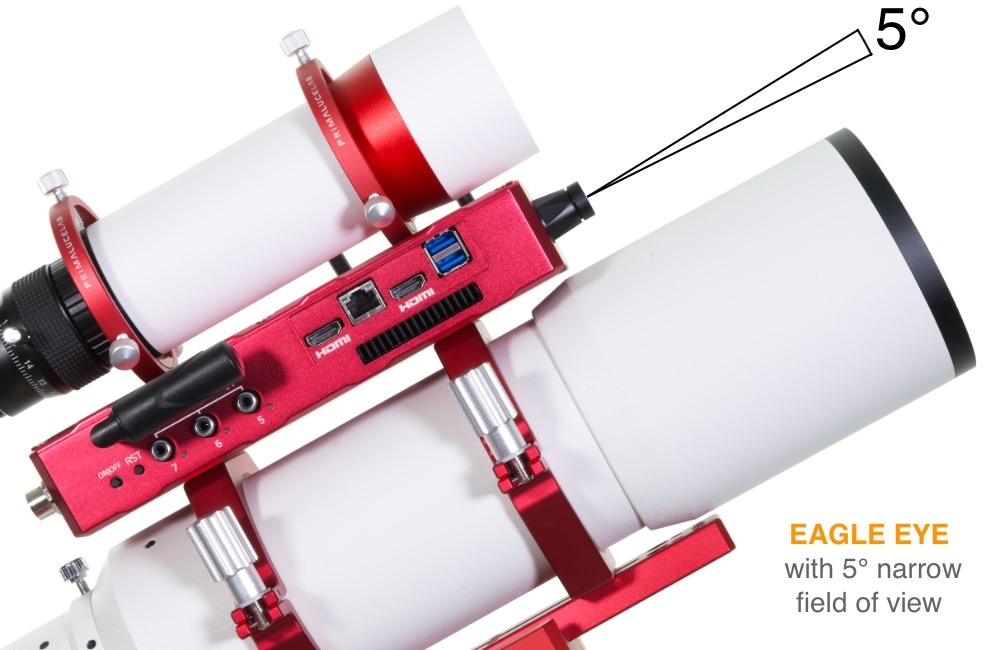 EAGLE4 not only offers exclusive features for advanced astrophotography, but also all the power of a real computer (superior to a Mini PC) to allow you to use any astrophotography software. In order to test its performance, we used the PCMark benchmark and compared EAGLE4/ EAGLE4 S / EAGLE4 PRO with one of the many inexpensive Mini PCs on the market (where we installed the same EAGLE4 operating system for a precise results comparison). As you can see in the picture below, EAGLE4 offers 32% more performance than a common Mini PC with Intel Celeron N3160 processor, 4GB of RAM and SSD disk; EAGLE4 S still raises the gap by bringing this difference to 109%; EAGLE4 PRO boosts everything to a wonderful +153%!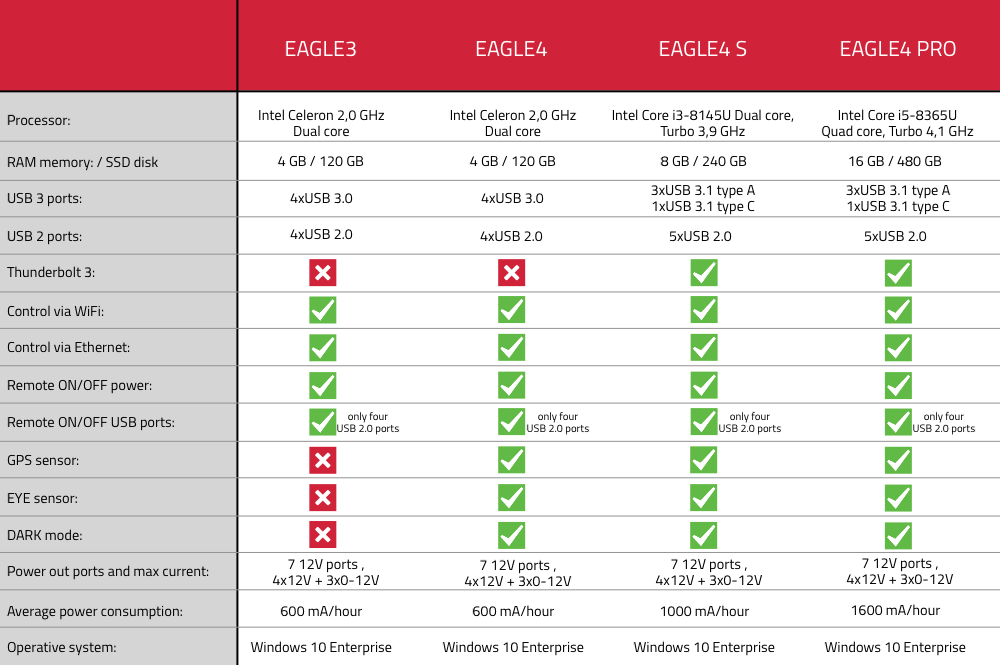 Levering van de PrimaLuceLab EAGLE4 advanced control unit omvat:
EAGLE unit
2 WiFi antennas
GPS antenna
12V power cable with cigarette plug for EAGLE – 250cm
n.4 M6x8 screws + n.4 M6x10 screws + n.4 M6x12 screws + n.4 M6x18 screws + n.4 M6x25 screws + n.4 M6x35 screws
Quick guide